We're staring November in the face, and I have been making slow and steady progress on my collecting goals for 2016.
Here are the cards I am targeting in 2016, along with runners-up that I will chase (just not as hard/expensive):
Mickey Mantle 1956 Topps #135:
If I'm ever going to finish my 1956 Topps set, all roads lead through this card... There are still a fair number of commons on my list, but after reeling in Aaron, Mays, Ted Williams, Jackie Robinson and the big Luis Aparicio rookie, Mantle looms large. I will be patient. I will stalk eBay. When the time is right, I will strike!!!
Runner-up: Roberto Clemente 1956 Topps
UPDATE got it!
Phil Rizzuto 1948 Bowman #8: UPDATE - Got it!
Similar to Mr. Mantle, this the biggest card left on my list to finishing a particular set. The others should be fairly easy to find in good shape for a price I can afford. Scooter will command a premium, but finding a copy that meets my arbitrary standards will be a milestone.
Runner-up:
the rest of my 1948 Bowman set needs
Update -
Set is complete!
"Satchell" Paige 1953 Topps #220
I have a fair number of Paige cards in my collection (including a reprint of this card), but none from his playing days. This card hasn't been on my radar in the last year, but I'm putting it on there now. The 1953 Topps Set is literally a work of art, and ol' Satch is one of the most remarkable and intriguing baseball players of all time.
Runner up: 1949 Leaf Satchel Paige
Kirby Puckett 1984 Fleer Update U-93: UPDATE - Got it!
Believe it or not, I don't have a copy of this card - my favorite player as a kid, and the player I have more cards than any other in my collection. This card is not exactly a white whale, but it's definitely in higher demand in MN where I buy most of my cards. I have a price in mind that I want to pay for this card, and I'm willing to wait it out until I can make that deal.
Runner-up: 1984 Fleer Update Box Set
Ted Kluszewski 1957 Topps #165
My dad grew up in Central Ohio and my whole family are Reds fans. This is one of the more iconic Reds cards from the 50s and Kluszewski is a beast. This card is probably going to be the most affordable on the list so far, but I am going to be a bit pickier on condition- I will be a stickler for really red reds and a bright, centered border. 1957 Topps cards have a tendency to fade over time...
Runner-up: 1957 Topps Frank Robinson RC
Elmer Valo 1955 Rodeo Meats
Elmer is a player I collect, and there were lots of regional issues and oddballs in the 50s and 60s, but not too many featured Mr. Valo. The Rodeo Meats card was one I just recently found out existed - I might not even see a copy this year, but I will have my eye out for it! There are not many cards left of Valo that have escaped my grasp, this one will be a part of my collection some day.
Runner-up:
Elmer Valo 1955 Topps Doubleheader #85
Update -
Got it!
William J. O'Neil, T206 tobacco card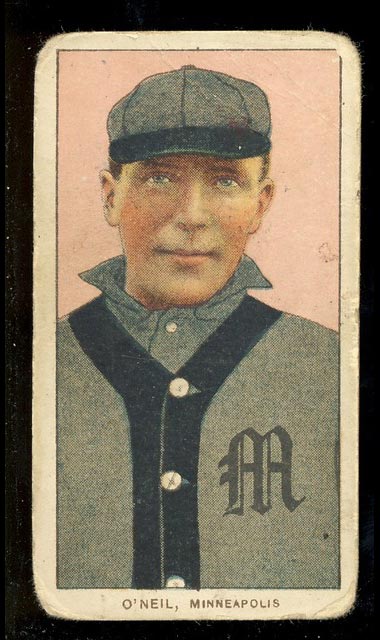 I've been "working" on the T206 Minneapolis Millers team set. This guy's name is very similar to mine, so he's the next guy on the list for me to chase!
Runner-up: Jimmy Collins, T206
If I manage to get all of these, it is probably because I won the lottery or something....