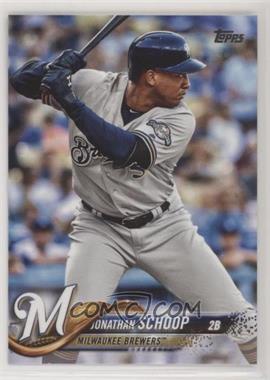 2018 Topps Update Series - [Base] #US287 - Jonathan Schoop
The Twins continued to add power to their lineup this off-season, signing Johnathan Schoop to a one year deal to play second base. Schoop had a rough 2nd half in 2018, not adjusting well to a different role in Milwaukee following a trade from the Orioles at the deadline.
Schoop was signed as an amateur free agent way back in 2008 as a 16 year old. It took 5 years in the Orioles system to work his way to the majors, but became an integral part of the O's infield from 2014 on.
Hailing from Curacao, Schoop made a name for himself as a kid, playing in the Little League World Series for the Curacao team in 2003 and 2004. His team won the Series in 2004, playing alongside fellow major leaguer Jurickson Profar. Schoop played Shortstop and pitched, getting 2 hits and also earning the save. He is part of a generation of players from Curacao that attended baseball clinics run by Andruw Jones- Schoop now runs clinics of his own, paying it forward to a new generation of kids.
Schoop had increased his power numbers each season from 2015 to 2017, hitting 32 homers and making his first All-Star game in 2017. 2018 was another story, but he still surpassed 20 homers on the year. In 2017, Schoop played in the World Baseball Classic for the Netherlands (Curacao is a former member of the Netherlands Antilles). The team's manager? Former Twins pitcher and Hall of Famer Bert Blyleven! Schoop will be 27 in 2019, hitting the prime years for a baseball player and looking to make a big splash before hitting free agency. The Twins have had the biggest power bat at 2nd Base, Brian Dozier, for several straight seasons. If Schoop can repeat with 20-25 homers, he will be a steal of a deal for the Twins.