Hello everyone - Happy Wednesday!
There was a positive response to the idea of trading some freshly busted wax, so I am going to be moving forward with doing a group break of some older boxes (1995-2005).
Today's post is for two things:
First, to sign up for slots (if you haven't already)
Second, to help decide which boxes to break.
Part One, assigning the teams:
•Arizona Diamondbacks :
•Atlanta Braves - John (Johnny's Trading Spot)
•Baltimore Orioles/Saint Louis Browns
•Boston Red Sox - Shane (Shoebox Legends)
•Chicago White Sox - Jeff (2X3 Heroes)
•Chicago Cubs - Tom (Waiting 'Til Next Year)
•Cinncinnati Reds - Nachos Grande
•Cleveland Indians
•Colorado Rockies - Adam (Infield Fly Rule)
•Detroit Tigers
•Florida Marlins
•Houston Astros
•Kansas City Royals
•Los Angeles Angels
•Los Angeles Dodgers - GCRL
•Milwaukee Brewers/Seattle Pilots - Tony (Off Hiatus)
•Minnesota Twins/Washington Senators - Brian (that's me)
•New York Mets - Dan (Daily Autograph, Keys to the Batters Box)
•New York Yankees - Tim B. (I Love the Smell of Cardboard in the Morning)
•Oakland Athletics
•Philadelphia Phillies
•Pittsburgh Pirates - Matthew Scott (Bob Walk The Plank)
•San Diego Padres
•San Francisco Giants
•Seattle Mariners - Kevin (The Card Papoy)
•St. Louis Cardinals
Tampa Bay Rays
•Texas Rangers
•Toronto Blue Jays - Al Kawamoto
•Washington Nationals/Montreal Expos
okay, so lots of options left, leave a comment below and I will edit the post.
I think a small break of three boxes would be good to test this out.
Maybe vote for something in each of the categories below? I'll buy boxes no earlier than Friday, so there's some time for discussion and recommendations and nominations for boxes.
One Box of Topps Gallery (Which year?)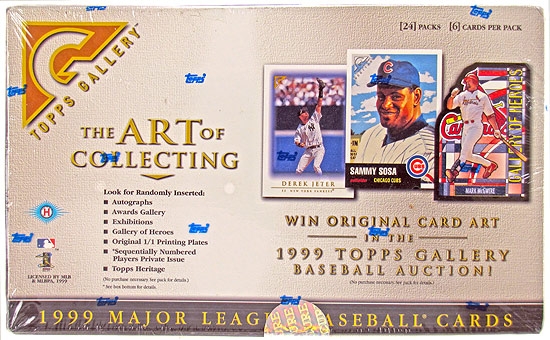 One Box of Stadium Club or similar (suggestions?)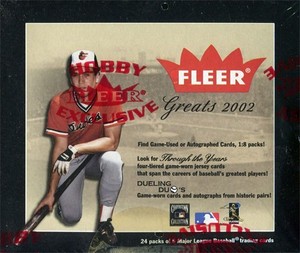 One Box of Something Different (previous example was 1998 Pacific Omega - this is kind of a wild card)
So, there we go - sign up if you haven't already, suggest a box, tell your friends...