I made some ambitious goals for 2016, so what I've put here in 2017 may look a little familiar. I think hard to meet goals are good, it makes the year more interesting!
Here are the cards I am targeting in 2017, along with runners-up that I will chase (just not as hard/expensive):
Mickey Mantle 1956 Topps #135:
If I'm ever going to finish my 1956 Topps set, all roads lead through this card... After reeling in Aaron, Clemente, Mays, Ted Williams, Jackie Robinson and the big Luis Aparicio rookie, Mantle looms large. I will be patient. I will stalk eBay. When the time is right, I will strike!!!
Runner-up: Mickey Mantle 1965 Topps #350
1956 Topps - Complete Set!
I am close enough to taste it. I have
less than 50 cards remaining
to complete the set, and most of them are commons or minor stars. I think I can finish the set this year, assuming I can find a Mantle in my price range!
Runner-up: Complete 1969 Topps Deckle Edge Insert set
"Satchell" Paige 1953 Topps #220
I have a fair number of Paige cards in my collection (including a reprint of this card), but none from his playing days. This card hasn't been on my radar in the last year, but I'm putting it on there now. The 1953 Topps Set is literally a work of art, and ol' Satch is one of the most remarkable and intriguing baseball players of all time.
Runner up: 1949 Leaf Satchel Paige
Ted Kluszewski 1957 Topps #165
My dad grew up in Central Ohio and my whole family are Reds fans. This is one of the more iconic Reds cards from the 50s and Kluszewski is a beast. This card is probably going to be the most affordable on the list so far, but I am going to be a bit pickier on condition- I will be a stickler for really red reds and a bright, centered border. 1957 Topps cards have a tendency to fade over time...
Runner-up: 1957 Topps Frank Robinson RC
William J. O'Neil, T206 tobacco card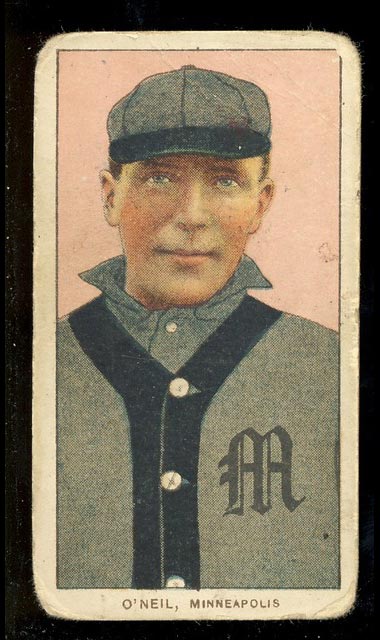 I've been "working" on the T206 Minneapolis Millers team set. This guy's name is very similar to mine, so he's the next guy on the list for me to chase!
Runner-up: Jimmy Collins, T206
1964 Topps Venezuela Set - add 50 cards towards completing set
My current progress
on the Topps Venezuelan set of 1964 is 117 out of 370 - that's a shade over 30%. I would love to get closer to 50%, so my goal for 2017 is to get 50 more cards for the set - that would get to 45% complete, which is fairly ambitious considering I added
ZERO
new cards to this set in 2016...
Runner-up: Specifically the 1964 Topps Venezuelan League Leaders subset - Cards #1-12
Reduce and ORGANIZE!
Several other collectors have stated similar goals, to get their collections into a more organized and focused state. I have lots and lots of cards that frankly are not part of my future collecting plans. The only bummer is that most of them are not really appealing to anyone. My collection of Braves, Red Sox, Cubs, Dodgers, Blue Jays, and Pirates have been picked pretty clean through trades, most of what's left are those 80s and 90s junk wax that no team collector really needs anymore. There's a bit more variety for the other teams, but again, most of it is not anyone's first choice.
By the end of 2017, I would like to have a much better grasp of what exactly is in my collection, and what I have to offer to others in trade.